Take a look at this check…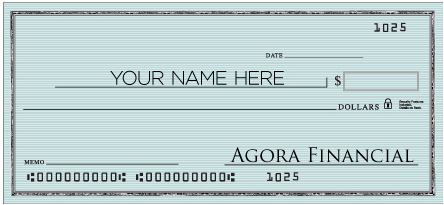 Yes, it's a blank check. Straight from our friends at Agora Financial.
And in a moment, I'll show you why they are basically handing them out to readers who lose on their new "Flash Income" secret.
(Fortunately for them, this secret strategy has a 98.44% win rate.)
First, let's start the week off right. Let's talk about the current state of the good ol' U.S. of A.
As a regular patron of our virtual pages, you probably understand that there are two things we can count on here in America.
One is that those in power will continue to take all the power we (as a country) continue to dole out on a daily basis.
Second is that those in power will keep in place those things that tilt the odds in their favor — especially in terms of investing.
And here's the thing about that second point…
Not all, but many of the things that give the elite an advantage are accessible to regular Americans. When it comes to investing, though, the average American has to jump through two hurdles.
He or she must…
a) Know about them and
b) Not be intimidated to use them (unfortunately, most Americans who know about them are afraid of them… and irrationally so).
During the weekend, Agora Financial's income expert Zach Sheidt brought something interesting to our attention.
It's a simple investment strategy that allows you to make at least $1,000 in extra income each month…
And with just one recommendation.
Zach guarantees it.
And if you don't make money? He'll send you a check to cover your losses.
Easy as that.
And today, he's going to tell you all about it.

Before we go there, though, I thought I'd let you in on what we have planned for you this week here at Laissez Faire Today…
Here's a quick review…
Tomorrow, on Tuesday, Underground Health Researcher Nate Rifkin will give us the details on his jaunt to a Vegas health expo. And show you a quick and easy way to improve your health and maintain those good looks.
Wednesday, we're going to talk about the dreadful "Drone Papers."
If you haven't heard, a whistleblower recently leaked reports detailing the U.S.' drone-based "shadow war"
"The Intercept," the 'Drone Papers' website reads, "has obtained a cache of secret documents detailing the inner workings of the U.S. military's assassination program in Afghanistan, Yemen, and Somalia. The documents, provided by a whistleblower, offer an unprecedented glimpse into Obama's drone wars."
We'll also talk about a private sector solution to the potential government overreach with drones.
Thursday, we'll rap about capitalism, socialism, communism, fascism… and cows.
And Friday we'll do something a little different. We'll take on a reader's request.
What story do you want us to cover? What would you like to see from the LFT periscope? Tell us why and email it to: Chris@lfb.org.
(Some options… bitcoin, ISIS, Bernie Sanders, fighting propaganda, more TPP, etc.)
Exciting week ahead.
And today, we're going to be busy putting all the week's ducks in a row.
That's why we're going to let Zach Sheidt take it away and show you how to claim at least $1,000 per month in any market…
With the same investment strategy the elites use to line their pockets.
Unclaimed Funds: How to Collect at Least $1,000 Each Month in Any Market
By Zach Sheidt
Abandoned bank accounts… forgotten utility deposits… unclaimed pensions benefits…
The government is holding millions of dollars of cash and property like this, just waiting for the rightful owner to come claim it — if only the owners knew it existed.
But if you have a stock account, you're actually in a similar situation. You have the power to tap into a powerful cash reserve, extracting extra income from your portfolio almost at will with very little work. Yet chances are good you haven't heard about it… and even if you have, you may have been too scared to try it.
So in this report, I'd like to tell you about the moneymaking secret lurking right in your own stock account. More importantly, I'll tell you how to claim your funds correctly… taking away any fears you might have and giving you a chance to earn extra checks totaling $1,000 or more each month.
It's a strategy that you can use in good markets and in bad. And with the safeguards built into the system, there are multiple ways for you to claim additional funds for every opportunity that we're involved in.
The only real trick is that to take advantage of this system, you may need to overcome some irrational fears. That's because in order to earn these "unclaimed funds," you'll need to trade something a lot of investors try to avoid.
I'm talking about…
Click here to keep reading and discover Zach's secret… and see why he's celebrating by handing out checks…
Until tomorrow,
Chris Campbell